Family Guy has featured incest between every member of the Griffin family but the show hits a new low in "Stewie is Enceinte." Stewie (Seth MacFarlane) becomes worried that Brian (MacFarlane) is avoiding him. He notices that having a baby has brought together his neighbors Bonnie (Jennifer Tilly) and Joe (Patrick Warburton).
"Baby's save relationships," he says in an epiphany.
Stewie invents a machine to impregnate himself using the hair and saliva of Brian, who isn't thrilled about being the baby's baby daddy. Stewie, on the other hand, embraces his feminine side (read: being a moody bitch). It also provides him yet another opportunity to dress up in drag, a recurring theme for the sexually confused child. The odd couple makes an appointment with Dr. Elmer Hartman (MacFarlane).
"That's odd," the incompetent doctor comments. "Your vagina seems to have a penis and two testicles."
Hartman readily accepts his far-fetched explanation of a sneeze gone awry. He inquires about her about being underage but she insists it was consensual, which is the important thing he says.
Things get even more disturbing when Stewie drags Brian to a photography studio for some family photos. They pose for 'tasteful nudes' to the song "Having My Baby" by Paul Anka and Odia Coates. It's a spot-on satire of the trend popularized by pregnant celebrities posing on the covers of magazine. Men everywhere can surely empathize with Brian's discomfort.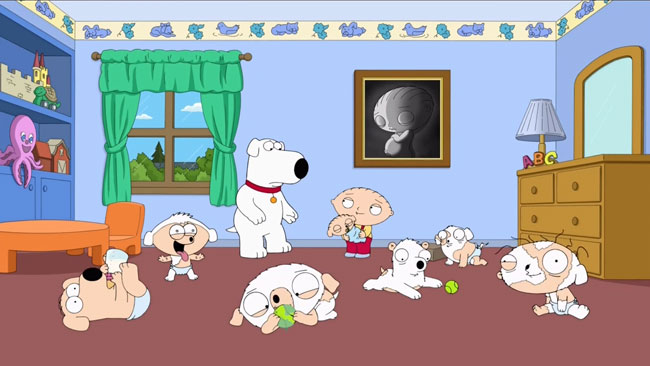 The inter-species children are born with a wide array of birth defects including blindness, deafness and retardation. Many of the puppies are accidentally killed through a combination of their disabilities and a lack of parental supervision. The rest are given up for adoption after Stewie and Brian reconcile and agree to hang out more often. Thus, maintaining the status quo.
Stewie's father Peter (MacFarlane) completely ignores the pregnancy to make a viral video with his friends. He suggests they follow the example of a real-life viral video showing a monkey raping a frog in a zoo. A similar scene conveniently materializes in front of him. A female frog goes up to the jukebox and plays Bon Jovi's "You Give Love a Bad Name." Her provocative dancing attracts the attention of monkeys who ogle her.
"I'm concerned that frog's in more trouble than she realizes," Joe says foreshadowing a horrific scene that's left to the imagination.