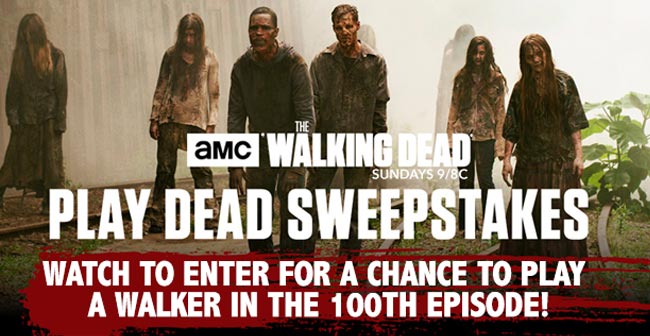 Are you a diehard Walking Dead fan? Enter the Play Dead Sweepstakes for a chance to be turned into a zombie in a walk-on role on the 100th episode. Filming takes place in Georgia during the hot summer months so it won't be hard to get into character under all that zombie makeup.
Watch each week for 2 code words revealed during episode premieres. Then enter the code before 6AM ET the following day. Each of the possible 8 entries count towards the final drawing on April 3. The sweepstakes is open to US and Canadian residents over the age of 21.
Grand Prize:
Four grand prize winners will have walk-on roles as walkers on the season 8 premiere 100th episode. Winners will receive airfare and two-night accommodations as well as $500 allowance for food and ground transportation. Each grand prize is valued at $1,700.
The Walking Dead airs Sunday 9/8C on AMC.
ENTER @ amc.com/playdeadsweepstakes
CODE WORDS (updated weekly):
2/12: RISE TOGETHER
2/19: WEAPON HUNT
2/26: DOCTOR SMARTYPANTS
3/5: ONE CONDITION
3/12: GUNS RAISED
3/19: PIG TRUCK
3/26: GREEN WALKER
4/2: STAND FIGHT